Villa Valentina B&B is situated in Taormina countryside. Inside at 7.000 sqm of orange grove from where is possible reached the most important touristic places around Taormina.
Taormina is among the most important tourist destinations in Eastern Sicily. Halfway between Messina and Catania, it is located on a promontory 200m above sea level and overlooks both the Etnean and the Messina sides.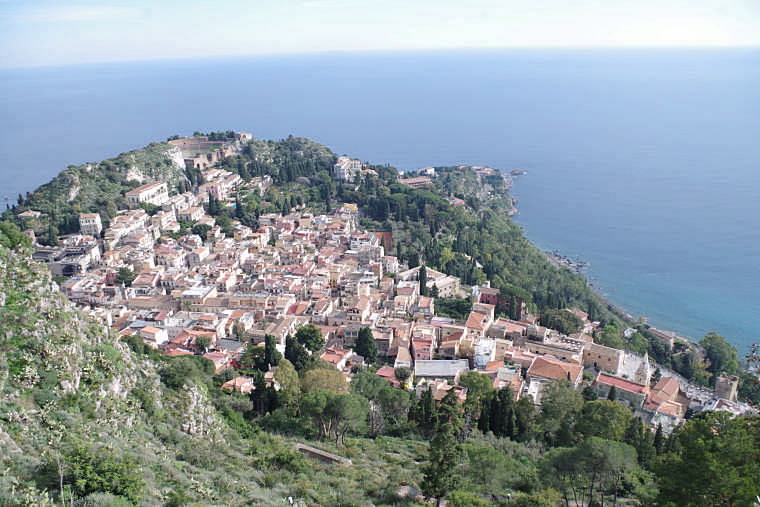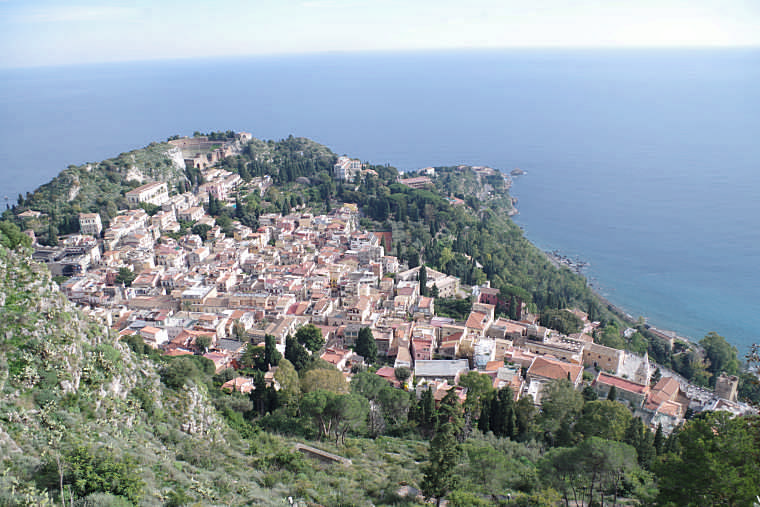 The Corso Umberto is the main attraction of the city because it is right along this pedestrian street that most of the things to see are to be found. Churches, clock tower, IX April square from which to enjoy the view over the bay of Giardini-Naxos and Etna, the shops, bars and restaurants. The Corso Umberto for the locals is the place where social life develops, where to walk or sit in bars to chat more and less. From the course you can access numerous small side streets that offer new and interesting views.
At the end of Corso Umberto, from the Messina port side,  starts via teatro Greco which leads to the homonymous ancient theater, the second largest in Sicily but the only one to have a view that starts from the bay below and reaches the top of Mount Etna. It also represents the stage for various events including concerts that over time have seen leading players on the national and world music scene.
Facing the Greek theater climb there is the Teatrino Romano climb which takes its name from the  little Roman theatre, Odeon, which is located at the end of it on the left behind the Church of St. Catherine. In addition to churches and monuments it is advisable to take a tour in the streets of the old Greco-Roman center or via Timoleone, via di Giovanni, via Giardinazzo, via Teocle, via Crupi etcc.. From these streets it is then possible, lengthening a bit of road, to reach the Villa Comunale known for its panorama and for its avenues that run and intertwine between flower beds and small groves.
Created by Lady Florence Trevelyan as a park in her own home, it was donated to the Municipality of Taormina. Different are the distinctive elements of the Villa  multi layer structures, of particular beauty, scattered inside the fish tanks, from the cages for the beech trees to the benches set among the hedges. A small portion of the villa is surrounded of small locales stone monoliths which, according to some testimonies, was built with symbologies typical of Stonage. Inside the villa it will seem to be in another place.
To complete, but not to finish what there is to see in Taormina, there is Madonna Rocca the place of the Saracen Castle, closed to the public, where to get a view on historical center of Taormina. There you find Madonna Rocca Church in part built inside the rock.
This is a non-exhaustive list of what there is to see:
Chiesetta S. Antonio Abate a porta Catania
Duomo e la frontistante piazza quattro fontane
Chiesa del Carmine oggi sconsacrata e sede di eventi
Chiesa S. Michele Arcangelo vicino il S. Domenico
Palazzo Duchi di S. Stefano
Badia Vecchia
Palazzo Ciampoli
Chiesa del Varò
Piazza 9 Aprile
Biblioteca Comunale
Chiesa S. Giuseppe
Le Naumachie
Parco Pubblico o Villa Comunale
Chiesa S. Caterina
Odeon o Teatrino Romano
Piazza V. Emanuele antica Agorà oggi non esistente
Teatro Greco-Romano
Piazzetta del Belvedere panoramica su Isola Bella
Chiesa S. Antonio ai Cappuccini
Rovine delle terme piazza S. Pancrazio
Chiesa S. Pancrazio
Chiesa Madonna della Rocca sopra Taormina